Chiton Rocks
Patrolled Today
Beach
The Chiton Rocks section (157C) usually has several small rips between the rocks and the southern sandy foreland. The Chiton Rocks surf club patrols this central 1 km long section of the beach. The main Goolwa-Victor Harbour Road runs 400 m inland parallel to the beach. However the beach is not well... Read more
The Chiton Rocks section (157C) usually has several small rips between the rocks and the southern sandy foreland. The Chiton Rocks surf club patrols this central 1 km long section of the beach. The main Goolwa-Victor Harbour Road runs 400 m inland parallel to the beach. However the beach is not well sign posted and you might need a street map to find it. The road eventually reaches the beach with a long car park, and the surf club sitting below a 20 m high grassy bluff and the beach.
Swimming
Boomer-Chiton Rocks is a moderately safe beach with a patrolled area, however watch for poorly defined rips, particularly against the rocks, and be careful of the often heavy shorebreak. Waves decrease toward Victor Harbour providing lower surf and usually calm conditions at Victor Harbour.
Surfing
There is usually a narrow beach break favoured more by body boarders than surfers.
Fishing
The rocks attract most fishers, while a good cast can reach the deeper water beyond the usually narrow bar.
General
Chiton Rocks is a patrolled beach missed by most tourists and frequented more by the locals. Most of the tourists head for the very accessible and low energy Victor Harbour beach.
Read less
Chiton Rocks SLSC
| | | | | | | |
| --- | --- | --- | --- | --- | --- | --- |
| - | - | - | - | - | 12:00 - 17:00 | 12:00 - 17:00 |
TODAY'S UPDATE
Weather 15°C
Water 15°C
UV Rating 8 / 11
Hazards
Winds

Rip Currents

Submerged Objects
Heavy shorebreak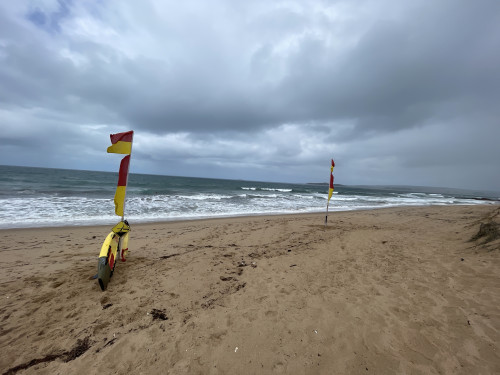 Taken by at 24/10/2021 12:38pm
Hazards
High surf
Large unexpected waves
Heavy shorebreak
Gutters
Littoral currents
Fixed rips
Flash rips
Shallow Sandbars
Submerged Objects
Water Temp
Winds
Accessible Rock Platforms
Long beach
Outfall
Uneven ground
Rocks
Reefs
Slippery rocks
Information Symbols
Regulation Symbols
SLSA provides this information as a guide only. Surf conditions are variable and therefore this information should not be relied upon as a substitute for observation of local conditions and an understanding of your abilities in the surf. SLSA reminds you to always swim between the red and yellow flags and never swim at unpatrolled beaches. SLSA takes all care and responsibility for any translation but it cannot guarantee that all translations will be accurate.
---