North Narrabeen
Patrolled Today
Beach
North Narrabeen Beach lies (NSW 310a) at the northern end of a 10 m high sand barrier, it is backed by the eastern channel of Narrabeen Lagoon, with the shallow mouth flowing over rocks and sand to enter the ocean 200 m north of the surf club (Fig. 4.207). The... Read more
North Narrabeen Beach lies (NSW 310a) at the northern end of a 10 m high sand barrier, it is backed by the eastern channel of Narrabeen Lagoon, with the shallow mouth flowing over rocks and sand to enter the ocean 200 m north of the surf club (Fig. 4.207). The North Narrabeen SLSC (formed in 1912) is adjacent to a large car park, park and picnic area. Strong rips and higher waves dominate this end, with an often heavy plunging wave at low tide. Also the lagoon entrance can be a problem when deep at high tide and with swift currents on a falling tide. So stay between the flags. If swimming down the beach avoid the persistent rips and stay on the bars. Behind the lagoon entrance is the last remaining beachfront caravan park in Sydney, a popular place year round and always full during the summer holidays. The lagoon entrance offers safer swimming and has its own kiddies corner on the southern side with an adjoining car park. A swimming club and large rock pool are located on the rock platform with a reserve, walkway and lookout on the headland.
Swimming
Narrabeen ranges from the more hazardous rip-dominated North Narrabeen to the usually lower waves of Collaroy. However summer northerly seas do induce strong rips at Collaroy. Best is between the flags at the four surf clubs.
Surfing
Narrabeen is best known for the world famous North Narrabeen break, breeding ground of some of the world's best surfers, including world champions. It is also the site of numerous local, national and international events. North Narrabeen has five waves. A heavy but short left breaking over a ledge on the Point; the Alley rights; the longer North Narra left. The famous long lefts are best in moderate to high northeast swell. In front of the car park is the Carie rights, a fast tubing wave, while further out in bigger south swell is the Narrabeen bombie, which offers both lefts and is now a tow-in site. Beach breaks abound down the beach, with the central Gardens area the most popular, while at Collaroy the smaller waves attract the learners and inexperienced. However during big south-east swell Collaroy Point starts to work with an inside section off the pool called The Kick, and a fuller section off the point.
Fishing
A very popular beach with rock, inlet and beach fishing at North Narrabeen, and gutters down the beach following high seas. Boats launched at Fishermans beach are also commonly seen on the inshore reefs.
Read less
North Narrabeen SLSC Inc.
| | | | | | | |
| --- | --- | --- | --- | --- | --- | --- |
| - | - | - | - | - | 09:00 - 17:00 | 09:00 - 17:00 |
Northern Beaches Council
| | | | | | | |
| --- | --- | --- | --- | --- | --- | --- |
| 09:00 - 17:00 | 09:00 - 17:00 | 09:00 - 17:00 | 09:00 - 17:00 | 09:00 - 17:00 | 09:00 - 17:00 | 09:00 - 17:00 |
TODAY'S UPDATE
Weather 17°C
Water 19°C
UV Rating 8 / 11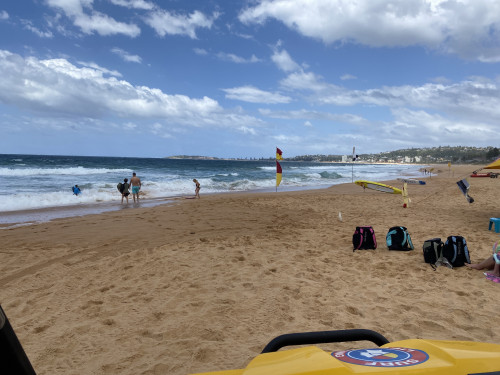 Taken by at 24/10/2021 11:45am
Hazards
Sharks
Bluebottles
High surf
Gutters
Fixed rips
Flash rips
High Tide Range
Shallow Sandbars
Winds
Inlet
Beach erosion
Long beach
Rocks
Slippery rocks
Slippery surface
Strong Currents
Information Symbols
Regulation Symbols
SLSA provides this information as a guide only. Surf conditions are variable and therefore this information should not be relied upon as a substitute for observation of local conditions and an understanding of your abilities in the surf. SLSA reminds you to always swim between the red and yellow flags and never swim at unpatrolled beaches. SLSA takes all care and responsibility for any translation but it cannot guarantee that all translations will be accurate.
---