Goolwa
Patrolled Today
Beach
The main beach access is at Goolwa Beach (149A), 11 km northwest of the mouth (Fig. 4.31). The road runs straight out to the beach where there is a large car park, toilets and a kiosk. There is also 4WD access to the beach out to Murray Mouth. The other two... Read more
The main beach access is at Goolwa Beach (149A), 11 km northwest of the mouth (Fig. 4.31). The road runs straight out to the beach where there is a large car park, toilets and a kiosk. There is also 4WD access to the beach out to Murray Mouth. The other two access point are to the west through the Surfers subdivision, and the Middleton subdivision, both spots providing car access to the low bluffs overlooking the long beach and wide surf zone (149B & 149C) (Fig. 4.32).The entire beach is composed of fine sand and exposed to wave averaging over 2 m. These break across a 500 m wide double bar surf zone, characterised by numerous spilling breakers and substantial wave set-up and set-down at the shoreline, and during lower waves conditions widely spaced rips. At Middleton a strong permanent rip runs out against the rocks.
Swimming
These are three of the most hazardous beaches in South Australia owing to the persistent high waves. However because of the very wide surf zone, it is moderately safe to swim in the inner surf zone on the bar. Do not however swim beyond the first line of breakers as strong currents occupy the trough between the bars.
Surfing
Middleton is the more popular spots owing to the easier access across the wide surf one using the permanent rip which runs out past Middleton Point. There are numerous breaks both along and across this wide surf zone, with best conditions during moderate swell and northerly winds.
Fishing
Most beach fishers head for Murray Mouth and the beach east of Goolwa. There is also rock fishing at Middleton Point.
General
Goolwa is the most popular surfing beach south of Adelaide and attracts large crowds in summer. However take care if swimming here as it is potentially hazardous.
Read less
Goolwa SLSC
| | | | | | | |
| --- | --- | --- | --- | --- | --- | --- |
| - | - | - | - | - | 12:00 - 17:00 | 12:00 - 17:00 |
See all clubs (service providers)
Goolwa Lifeguards
TODAY'S UPDATE
Weather 15°C
Water 15°C
UV Rating 8 / 11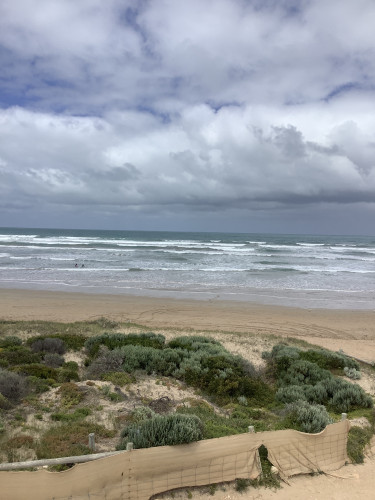 Taken by at 24/10/2021 12:31pm
Hazards
Information Symbols
SLSA provides this information as a guide only. Surf conditions are variable and therefore this information should not be relied upon as a substitute for observation of local conditions and an understanding of your abilities in the surf. SLSA reminds you to always swim between the red and yellow flags and never swim at unpatrolled beaches. SLSA takes all care and responsibility for any translation but it cannot guarantee that all translations will be accurate.
---
Hindmarsh Island, SA 5214
Includes beaches:
Goolwa-middleton
,
Surfers
,
Middleton
Length:
0.01km
General Hazard Rating:
8/10
(Highly hazardous)
Beach Key:
sa0149A