North Haven
Patrolled Today
Beach
North Haven beach (233) is the product of a major redevelopment of the northern part of the Adelaide coast. In the 1980's North Haven Marina development excavated a large marine behind the beach, with two breakwaters to protect the entrance. The North Haven Beach is now located between the northern... Read more
North Haven beach (233) is the product of a major redevelopment of the northern part of the Adelaide coast. In the 1980's North Haven Marina development excavated a large marine behind the beach, with two breakwaters to protect the entrance. The North Haven Beach is now located between the northern breakwater and the older breakwater for Adelaide's Outer Harbour (Figs. 4.77 & 4.78). The 1.2 km long beach is wedged between the two breakwaters and has been slowly building seaward. Residential development backs the beach, with the North Haven Surf Life Saving Club, a large car park and dunes occupying the beachfront.The beach faces southwest, and is composed of fine sand, which together with the low waves, usually less than 0.5 m, produced a wide, flat firm beach, and wide shallow bar attached to the beach.
Swimming
This is the safest beach on the Adelaide coast, with usually low wave to calm conditions and no rip currents.
Surfing
None, except during a huge ocean swell which can penetrate up the gulf as far as North Haven, where it arrives as a low, 0.5m swell.
Fishing
The boundary breakwaters offer the best locations.
General
A relatively newly developed beach, with good access and parking, plus the surf club, in a low energy setting.
Read less
North Haven SLSC
| | | | | | | |
| --- | --- | --- | --- | --- | --- | --- |
| - | - | - | - | - | 13:00 - 17:00 | 13:00 - 17:00 |
TODAY'S UPDATE
Weather 14°C
Water 16°C
UV Rating 8 / 11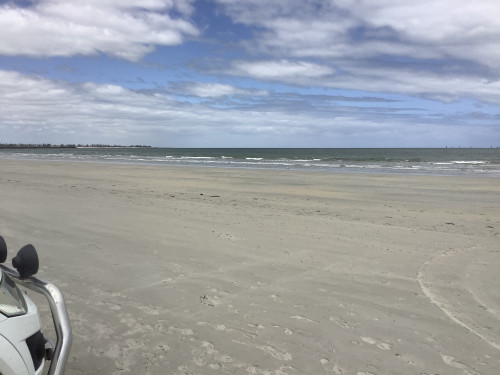 Taken by at 25/10/2020 12:43pm
Information Symbols
SLSA provides this information as a guide only. Surf conditions are variable and therefore this information should not be relied upon as a substitute for observation of local conditions and an understanding of your abilities in the surf. SLSA reminds you to always swim between the red and yellow flags and never swim at unpatrolled beaches. SLSA takes all care and responsibility for any translation but it cannot guarantee that all translations will be accurate.
---
Osborne, SA 5017
Length:
1.2km
General Hazard Rating:
2/10
(Least hazardous)
Beach Key:
sa0233